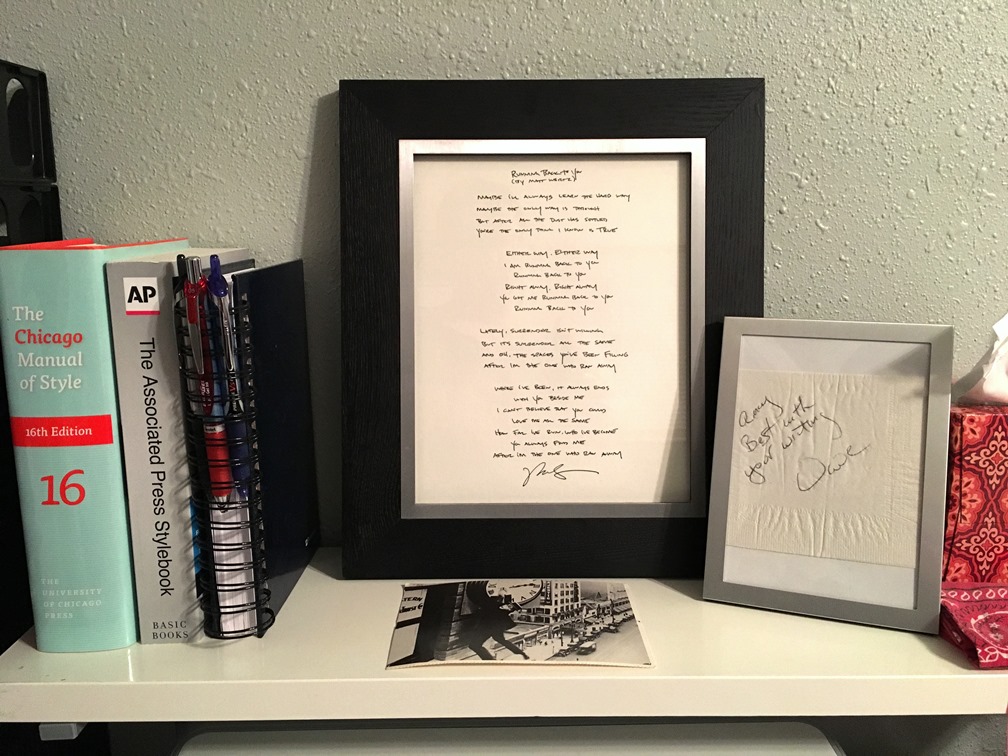 When the Going Gets Tough…
Writing is a long, hard, and often lonely road. It's exciting, depressing, sensational, sorrowful, thrilling, frustrating… often all in the same day. Let's face it, at some point or another, we all wonder if it's worth it. We all want to give up.
So how do you keep going?
When the contest feedback rips your precious characters to shreds . . . when the rejection letters pile up . . . when you spend years researching a story idea, only to discover another writer has already published an almost identical story?
For me, it's all about remembering my anchors—the moments when I knew, beyond a shadow of a doubt, that God called me into this journey with Him. That the writing life, with all its ups and downs, twists and turns, was my God-given passion and talent.
This little shelf above my printer holds everything I need to be a writer.
Wait . . . everything?
Yes, because this shelf holds my four anchors—my four reminders that the going will be tough, but that I will keep going no matter what.
Anchor #1: It's a CRAFT.
This journey takes work. I keep my AP and Chicago style manuals close by not only for quick-grab references as I'm editing a client's work, but as a visual reminder that the writing life is one of study and hard work. It's a craft, not a hobby. So if it feels tough . . . I know I'm doing it right.
Anchor #2: It's a COMMUNITY.

I'm not the first person to make this journey. That spiral notebook next to my style guides is full of quotes, articles, blog posts, and conference lecture notes about the writing craft and life. I can flip through its pages at any time to find inspiration from others who've walked this road before me.
And others are walking it with me now. A friend and fellow writer returned from a writer's conference I was unable to attend, and brought me this gift—an autographed napkin from one of my publishing idols. Such a silly and heartwarming token is my anchor to the reality of my writing community.
Anchor #3: It's a CALLING.
I was wired to be a storyteller since the day I was born, but I didn't realize it until one very particular day a few years ago, when I slapped on my headphones and listened to a brand new song. Those four and a half minutes were my Damascus Road awakening—the moment I was jolted out of my complacency and the entirety of my existence up to that point suddenly made perfect sense. I keep a copy of that song's lyrics (handwritten by the artist himself) to remind myself of that moment, to never forget that soul-filling rush of purpose and rightness that put me on this path in the first place.
Anchor #4: It's a COMMITMENT.
Harold Lloyd is one of my all-time favorite movie stars, and this epic clock-dangling scene from his 1923 hit Safety Last! reminds me, almost literally, to hang in there. Lloyd dreamed of being a big-time movie star, but he lost his right thumb and forefinger, and almost his life, in an on-set explosion in 1919. Yet not only did he recover and go on to become one of the most prolific and successful movie stars of all time, he still performed all his own stunts, including this one (he wore a glove with prosthetic replacement fingers to hide his injury). This image reminds me that, if I'm truly committed to writing, I won't let anything get in my way. If a man can build an entire film career as a daredevil comedian with only one complete hand, surely I can sit in a chair for a few hours every week and put a few thousand words on paper. If I'm truly committed to being a writer, then I will find a way to write no matter what, when, or where.
Your Turn
What keeps you going when the writing life gets tough? What are your anchors?