NaNoWriMo Guest: Amy Brock McNew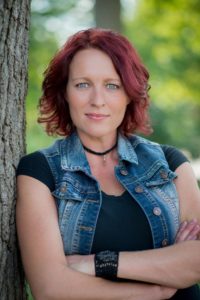 As I continue to plow through my first attempt at National Novel Writing Month, I'm excited to introduce you to another writing friend!
Amy Brock McNew is a former nurse, a martial artist, complete book nerd, and total music junkie. She believes everyone should have a theme song. She has been writing since the age of eight. A long time science fiction and fantasy devourer, she loves creating worlds that push the boundaries and challenge her readers to go beyond the ordinary, beyond the physical, and explore supernatural realms full of action and adventure. Her first novel, Rebirth (The Reluctant Warrior Chronicles), won the 2015 Cascade award for unpublished speculative fiction. She has a background in journalism, with several articles on health issues and self-defense published.
She is the mom of teen boys and the wife of a TaeKwonDo instructor. Originally from Arkansas, Amy currently resides in North Central Indiana, where she dreams of being on the beach.
The Final Round
Three. More. Days.
That's all that's left until the NaNoWriMo madness is over.
And madness, it has been.
My family has forgotten what I look like. The sound of my voice. What food that does not come from a box or delivery guy tastes like. Though, I'm sure the glimpse over Thanksgiving helped jog their memories.
By this point, I'm wondering what on God's green earth I was thinking. I'm comparing my word counts to others who have already "won", and longing to have that banner that says "winner", proudly emblazoned with my name. I've drank enough coffee to float the U.S.S. Enterprise. I've had fabulous days where I shouted about my super human ability to type 5,000 words or more in a day. I've had excruciating days where I didn't even look at the NaNo website, and stayed away from any post that asks, "What was your word count today?". I've vacillated between thinking I've written the most epic supernatural story in existence, and wondering how long it'll be before people realize I shouldn't be allowed to write a user's guide for a toaster, let alone a novel. I've felt like I've been beaten into a corner, and I've wondered if anyone would notice if I snuck under the ropes and tossed my towel into the center of the ring. I mean, last year at this time, I was celebrating a win. I should at least be able to beat my own record, right?
I'm sure there are many of you who can relate. We've all had our own adventures in the ups and downs of attempting to slay 50,000 words in a month. It's a fight to the finish that doesn't always go your way. You may catch a left hook to the jaw. A solid roundhouse to the belly. Or, you may even get your legs swept out from under you.
Do we give up? No. We know there's one more round. One more chance to center ourselves, focus on our game plan, and get back in there. One more chance to own this fight. Once more chance to win. The best part? Though it can sometimes feel like we're outnumbered, we only have one opponent. Ourselves. This competition isn't really about who logged the most words. It's not about sinking into the pit of comparison and letting the fact that others are farther than you distract you from your goal. It's about exactly that: YOUR goal. The only competitor that matters is you. All you have to do is be the best you can be. Churn out the best words you can. Get your story down, and stop looking over at the next desk, wondering what your friends are writing. Now is the time to buckle down, spill your guts on that page, and finish strong. However that looks for you.
I leave you with a line from 'Overcomer' by Mandisa. "Stay in the fight to the final round." Because that last round is where you claim your victory, whatever that looks like for you.