Simple Menus for One Week in 1908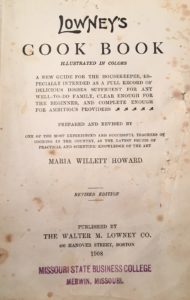 While I'm not the fanciest cook in the kitchen, nor have the most adventurous palate on the planet (far from it!), I'm rather tempted to conduct an experiment: cooking a turn-of-the-century menu for an entire week!
Below is a week-long sample menu from my copy of Lowney's Cook Book, published in Boston in 1908. It had been languishing on a forgotten shelf in the back corner of an old used-book store (my favorite kind of store on earth!), tattered and broken and falling apart, which is why I got it for only $1.00!
But to me it's priceless, because a previous owner has added many recipes of her own. Some handwritten inside the cover, others jotted on scraps of paper stapled inside the front pages, still more cut out from magazines and newspapers and simply tucked into the pages. This book is worn and shabby because it's been well-used and well-loved for over 100 years—exactly the kind of real-life connection to the past that makes history so thrilling for me!
I'll transcribe some of those handwritten recipes in future posts, but for now, enjoy a week of chowing down in 1908!
Sunday
BREAKFAST
Grape Fruit
Fish Balls
Broiled Bacon
Parker House Rolls
Coffee or Cocoa
SUPPER (I love how, on Sunday, it isn't called Luncheon!)
Lobster with Mushrooms
Parker House Rolls
Italian Cream
Chocolate Walnut Cake
Tea or Cocoa
DINNER
Bouillon
Crisp Crackers
Roast Chicken
Italian Potatoes
Boiled Squash
Cranberry Sauce
Lettuce Salad
Vanilla Ice Cream with Chocolate Sauce
Black Coffee
Monday
BREAKFAST
Oranges
Oatmeal
Ham and Eggs
Creamed Potatoes
Rye Muffins
Coffee or Cocoa
LUNCHEON
Cold Sliced Chicken
Cheese Custard
Bread and Butter
Peach Preserve
Cookies
DINNER
Corn Chowder
Broiled Steak
Horse-radish Cream Dressing
Baked Potatoes
Scalloped Tomatoes
Celery Salad
Brown Betty
Coffee
Tuesday
BREAKFAST
Bananas
Cream of Wheat
Broiled Halibut
French Fried Potatoes
Corn Cake
Coffee or Cocoa
LUNCHEON
Pea Soup
Omelet with Spanish Sauce
Graham Bread
Hot Chocolate with Whipped Cream
Sponge Drops
DINNER
Vegetable Soup
Roast Lamb
Roast White Potatoes
Scalloped Onions
Currant Jelly
Apple Salad
Squash Pie
Coffee
Wednesday
BREAKFAST
Stewed Prunes
Wheatena
Creamed Eggs
Popovers
Coffee or Cocoa
LUNCHEON
Vegetable Consommé
Lamb Stew
Creamed Potatoes
Hot Biscuits
Baked Vanilla Custard
Chocolate Cookies
DINNER
Ox-tail Soup
Roast Beef
Fried Parsnips
Franconia Sweet Potatoes
Lettuce Salad
Macedoine of Fruit
Lady Fingers
Coffee
Thursday
BREAKFAST
Oranges
Oatmeal
Salt Fish Soufflé
Baked Potatoes
Raised Muffins
Coffee or Cocoa
LUNCHEON
Blake Bean Purée
Cold Roast Beef
Rice Croquettes
Tapioca Pudding
DINNER
Rice Soup
Roast Goose
Apple Sauce
Baked Macaroni
Banana Fritters
Potato Balls
Lettuce Salad
Orange Water Ice
Angel Cake
Coffee
Friday
BREAKFAST
Grape Fruit
Wheat Germ
Broiled French Chops
Lyonnaise Potatoes
Egg Muffins
Coffee or Cocoa
LUNCHEON
Scalloped Oysters
Kohl Slaw
Baking Powder Biscuits
Apple Compote with Rice
DINNER
Tomato Bisque
Boiled Halibut
Egg Sauce
Potatoes à la Maître d'Hotel
Peas
Cheese Salad
Chocolate Bread Pudding
Saturday
BREAKFAST
Bananas
Shredded Wheat
Fried Calf's Liver
Baked Sweet Potatoes
Rolls
Coffee or Cocoa
LUNCHEON
Split Pea Soup
Croûtons
Goose Salad
Rolls
Wine Jelly
Sponge Drops
DINNER
Spinach Soup
Breaded Lamb Chops with Tomato Sauce
Mashed Potatoes
Turnips in White Sauce
Chocolate Bavarian Cream
Coffee
Your Turn:
What do you think of these menus? Do any sound appetizing? Are there any dishes you've never heard of before? Share your thoughts in the comments below!