When Tides Turn + Giveaway!
About This Book
In a time of war, sometimes battles take place in the heart.
Tess Beaumont is tired of being thought of as just a pretty face. Eager to do her part for the war effort, she joins the Navy's newly established WAVES program for women. Perhaps there she can convince people that there is more to her than meets the eye.
Lt. Dan Avery has been using his skills in the fight against German U-boats and hoping to make admiral. The last thing he wants to see on his radar is a girl like Tess. Convinced that romance will interfere with his goals, Dan is determined to stay the course, no matter how intriguing a distraction Tess is.
But love, like war, is unpredictable. When Dan is shipped out at the peak of the Battle of the Atlantic, he finds himself torn between his lifelong career goals and his desire to help the beguiling Tess root out a possible spy on shore. Could this fun-loving glamour girl really be the one?
KEEP READING FOR A CHANCE TO WIN A COPY OF THIS BOOK!
My Thoughts
Sarah Sundin makes me nervous. Every new release pushes me closer and closer to the edge of my seat. My hands shake as I open the cover. Will this be it? I wonder. The one that finally bombs?
Eight books. Eight 5-star ratings. Seriously, it's starting to freak me out a little bit. Can an author truly be that consistent? Can she create that many vivid, distinct characters? Pour that much historical detail into every single scene? Rivet my attention that much on every single action-packed page?
When Tides Turn hits shelves today with a resounding YES! This final installment of Sundin's Waves of Freedom series once again dives into a home front mystery-romance, perfectly blended with enough military action to satisfy even the most stalwart WWII enthusiast.
Tess and Dan are wonderful polar opposites who not only attract (big time!), but also truly bring out the best in one another. Without saying so much that this review becomes a spoiler, let me just say that I love how Tess and Dan call each other out on their crap. Neither allows the other to sulk or act like a victim, and their iron-sharpens-iron personalities only add to the swoon-worthy chemistry. And while this book definitely stands on its own, readers of the whole series will enjoy revisiting with the whole cast of characters, and revel in all the surprises Sundin has in store for them.
KEEP READING FOR A CHANCE TO WIN THE COMPLETE SERIES!
Perhaps the biggest punch When Tides Turn packs is in its spiritual theme. A wartime action-adventure story that delves into Sabbath scriptures and the commandment to rest? Yeah, that didn't make much sense to me at first. But as the story progressed, I saw so many spiritual applications for my own life that I starting keeping notes, and by the end of the book was reading with the novel in one hand and a Bible in the other. Not that the book is overly preachy! But Sundin's message about the need for rest and rejuvenation, about not trying to do everything ourselves and trusting God to be in charge, was particularly timely in my own life, and I think a lot of 21st Century readers will relate to it.
And of course, the incredible historical detail and research is one of the things I love most about a Sarah Sundin novel. She seamlessly blends fact with fiction to add a depth of authenticity to the sizzling romance and wartime suspense. I turned the final page with a deep sigh and a big, sappy grin on my face. Relishing the end of a wonderful story. Relieved that it was the very opposite of a bomb.
Three complete trilogies. Nine books. Nine 5-star ratings. THAT is how much Sarah Sundin has impressed this nitpicky reader. 🙂
My Rating

Available March 14, 2017 from Revell
I received a complimentary review copy from the publisher in exchange for my honest opinion, which I have given, freely and without compensation.
Win All Three Books in the "Waves of Freedom" Series!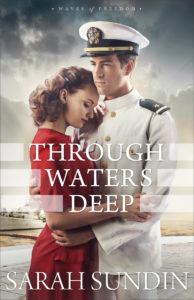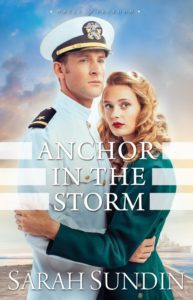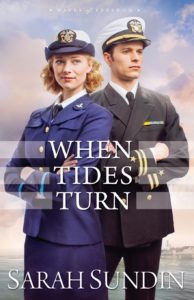 To enter, simply leave a comment below telling me what you love about Sarah Sundin's books or, if you haven't yet read any, what makes you want to!
One winner will be drawn at random on March 31st!
THIS CONTEST IS NOW CLOSED. THANK YOU TO EVERYONE WHO PARTICIPATED!
More Chances to Win!
Connect with me on social media to receive even more entries! Click on the icons below to like and follow my pages: